Who is eligible to receive services from Meals on Wheels?
Older adults living in Bexar, Atascosa, Bandera, Comal, Edwards, Frio, Gillespie, Guadalupe, Karnes, Kendall, McMullen, Real, Uvalde, and Wilson Counties, who have difficulty leaving their homes, are unable to cook for themselves, and lack outside support. On a limited basis, disabled individuals under 60 may be eligible for meals if funding is available.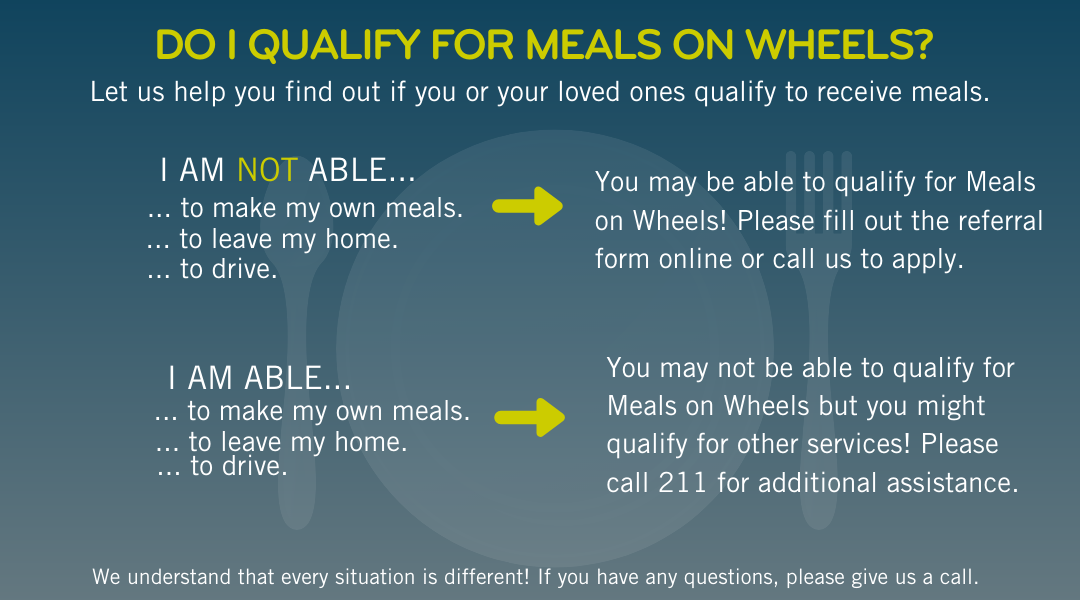 Who prepares the meals and will it meet my dietary needs?
Meals are prepared Monday – Friday beginning at 4:00 AM by our dedicated kitchen staff. Because we develop our menu well in advance, all food items are prepared in a commercial, high volume kitchen maintained by Meals on Wheels San Antonio. Please see click on the below for menu examples. 
Who delivers the meals?
Each meal is delivered in a microwave-safe container by a trained staff driver or volunteer operating from a Volunteer Site.
What time is the meal delivered?
Meals are delivered Monday through Friday around the noon hour. On average, meals can be delivered within 1 hour and is typically delivered by volunteers during their lunch break. In some cases, breakfast meals or frozen meals are provided for the weekend.
How much does it cost to receive meals?
There is no charge for eligible clients provided adequate funding is available. However, donations are gratefully accepted to help cover the $7 per meal cost (including prepapration and delivery), and if everyone gives then there might never be a wait-list.
You can give online here: 


How do I refer myself (or someone else) to receive services?
Doctors, community service agencies, relatives, friends or individuals can make a referral and it's as easy as filling out the online form or calling 210.735.5115.

Call us, or click on the "Sign Up" button to fill out the online form.
During business hours, please contact our Client Services Department at 210.735.5115.