Support Groups Meeting virtually Only: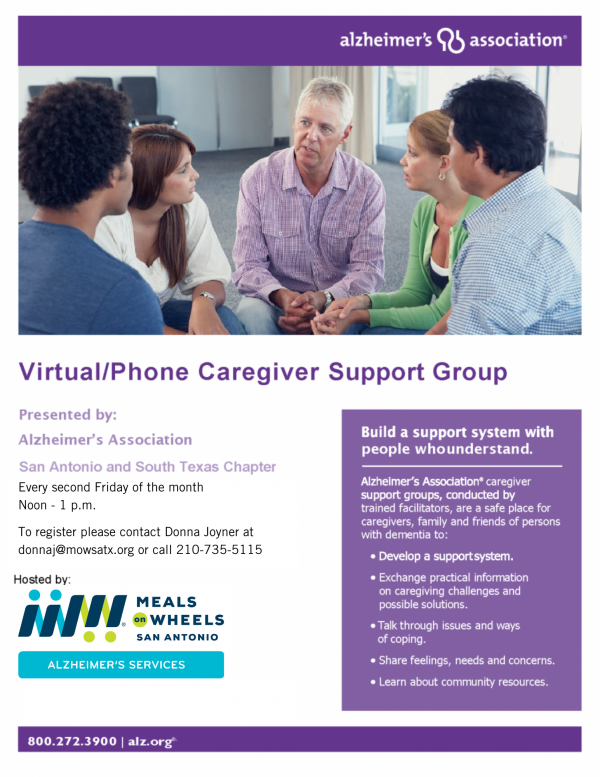 We are not yet meeting in person for our Second Friday Support Groups, but can't wait to see you in person for them soon!
We appreciate your support as we work towards opening the new Grace Place at the Ed & Bobbie Masoro Alzheimer's Center on the Meals on Wheels San Antonio Campus of Grace in 2023.
 
We look forward to re-opening Grace Place in its new home designed from the ground up to serve those living with Alzheimer's and other dementia-related disease.
We also continue searching for additional homes for Grace Place to ensure we serve the entire community's need. 
In the meantime, we have continued to:
Serve caregivers and their loved ones living with dementia in the comfort of the own homes via

Monthly online support group with our local Alzheimer's Association.
Grace at Home activity packets mailed to caregivers with a therapeutic activity they can participate in with their loved one. 

Meet weekly for Grace Notes, our community singing group for those living with Alzheimer's and dementia and their care givers- and are once again meeting in person!
Provide opportunities for those living with dementia to socialize while caregivers receive enhanced resources and support through partnerships with the Alzheimer's Association, UT Health, and more through our Graceful Gatherings.
Created opportunities for families to connect in social settings with our Graceful Adventures outings to places like the Witte and Scobee Planetarium. 
Identify and develop more ways to serve the community.
If you have specific questions about anything related to Alzheimer's Services, please do not hesitate to reach out to Christina Avena, Alzheimer's Services Director, by email or phone: 210-735-5115.
Stay up to date with monthly Alzheimer's Services emails
You can also follow us on social media for updates.
The Alzheimer's Association also has many resources available online including caregiver blogs, a 24/7 support helpline (800) 272-3900 and more please visit alz.org for more information.